Stampede by Tom Lea.
Heritage Site of August 1998 # 37. at Main Post Office; down town Odessa.

SECTION OF FINE ARTS
MURAL PAINTING BY TOM LEA

"STAMPEDE"

The mural in the lobby, oil on canvas, was executed by Tom Lea of El Paso, Texas. Mr. Lea received his commission as a result of competent designs, submitted in a Section of Fine Arts Competition.

The artist was partly inspired for his theme by the old ballad, "Little Joe the Wrangler." Lighted with a flash of lightning in the background, the herd of longhorns thunders across the canvas and one of the "wranglers", caught in the maelstrom, is being thrown from his horse.

Tom Lea was born in El Paso, Texas, July 11, 1907. He studied at the Art Institute of Chicago under John Norton, and later became Mr. Norton's assistant. His murals in public buildings include those in the College Library, Mesilla Park, New Mexico, the Public Library, Las Cruces, New Mexico, and the State of Texas Building, Dallas, Texas. Mr. Lea has also executed murals for the Post Office in Pleasant Hill, Missouri, the Court House in El Paso, Texas and the Post Office Department Building in Washington. D.C.

The aim of the Section of Fine Arts is to secure murals and sculpture of distinguished quality appropriate to the embellishment of Federal buildings. Approximately 1% of the total of limit of cost of the buildings is received for this decoration. The Section holds open anonymous competitions, national, regional, state, or local, to which all citizen artists of the United States are eligible. A different jury of painters of sculptors, unattached to the Section, judges each competition.

SECTION OF FINE ARTS, FEDERAL WORKS AGENCY
PUBLIC BUILDINGS ADMINISTRATION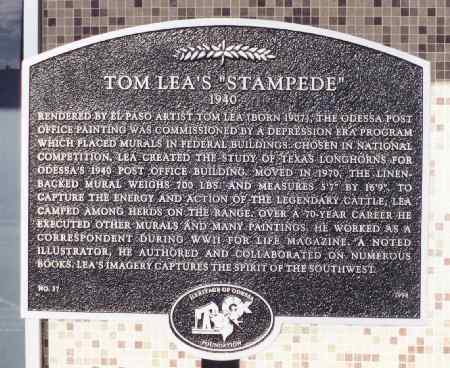 TOM LEA'S "STAMPEDE"
1940

RENDERED BY EL PASO ARTIST TOM LEA (BORN 1907), THE ODESSA POST OFFICE PAINTING WAS COMMISSIONED BY A DEPRESSION ERA PROGRAM WHICH PLACED MURALS IN FEDERAL BUILDINGS. CHOSEN IN NATIONAL COMPETITION, LEA CREATED THE STUDY OF TEXAS LONGHORNS FOR ODESSA'S 1940 POST OFFICE BUILDING. MOVED IN 1970, THE LINEN-BACKED MURAL WEIGHS 700 LBS. AND MEASURES 5' 7" BY 16' 9". TO CAPTURE THE ENERGY AND ACTION OF THE LEGENDARY CATTLE, LEA CAMPED AMONG HERDS ON THE RANGE. OVER A 70-YEAR CAREER HE EXECUTED OTHER MURALS AND MANY PAINTINGS. HE WORKED AS A CORRESPONDENT DURING WWII FOR LIFE MAGAZINE. A NOTED ILLUSTRATOR, HE AUTHORED AND COLLABORATED ON NUMEROUS BOOKS. LEA'S IMAGERY CAPTURES THE SPIRIT OF THE SOUTHWEST.

NO. 37 &nbsp &nbsp &nbsp &nbsp HERITAGE OF ODESSA FOUNDATION &nbsp &nbsp &nbsp &nbsp 1998
---
Tom Lea and J. Frank Dobie were friends and co-workers in the publishing field. The two traveled all over Texas researching Long Horn Steers to get content for a book. They camped and observed the cattle in their natural habitad for weeks. Lea was sketching different animals; and Dobie was taking notes and preparing for the publication.

Mr. Lea used his research for two projects working with the Long Horns. His many hours out in the mesquite on the ranchs contibutes to our enjoyment of his work.

Visit the Parker Ranch Museum at 1118 N Maple to enjoy many more of Tom Lea's Paintings! Richard Cummins can spin many a yarn from the visits he has enjoyed with Mr. Tom Lea.
---
Thank you "HERITAGE OF ODESSA FOUNDATION" for bringing this Painting to the Attention of our fellow Odessans!