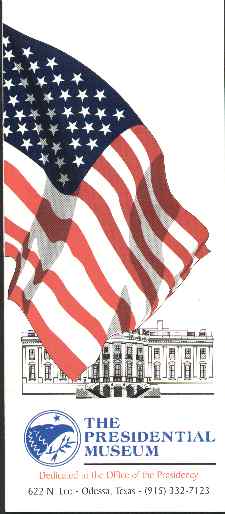 THE PRESIDENTIAL MUSEUM
Located at 4919 East University Odessa, on the Campus of UTPB, the museum is open to the public.
http://en.wikipedia.org/wiki/Presidential_Museum_and_Leadership_Library
For more information regarding temporary exhibits or museum sponsored programs and activities, please call 432-363-7737.
---
The Presidential Museum is unique in that it is the only museum in the United States dedicated to the office of the presidency and all those who served in the office.
The Hall of Presidents gallery offers visitors an opportunity to view objects related to individual presidents -- the collection of artifacts include campaign memorabilia of presidents and presidential hopefuls. Also shown in the intricate Dishong collection of First Lady iaugural gown miniature replicas.
The Library of the Presidents contains more than 3,500 volumes of subjects relating to the presidents and the office of the presidency. Students, scholars and the general public invited to use the reference facility for research.
---
Temporary Exhibits
The Presidentail Museum presents a number of features exhibits throughout the year which expose museum patrons to a braod spectrum of facinating topics.
Education Programs
The museum offers organized tours, educational presentations and out-reach programs.
Activities
Museum Members and other community citizens are invited to a variety of educational and entertaining events such as exhibit openings, book reviews, and brown bag luncheons. Other special events include First Night celebration and American Heritage Days.
Back to First Texas Hometown Heritage site.
---
Clear Page
updated: 07/13/2010